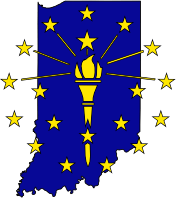 State of Indiana
Indianapolis, IN

$67,314 per year

Permanent

Full-time
Work for Indiana
Grow your career with the State of Indiana! With more than 50 executive branch agencies, the State of Indiana is a diverse workforce offering employees stimulating and challenging projects across a broad scope of career opportunities. As a State of Indiana employee, you impact the well-being of Indiana's communities every day.
At the State of Indiana, we don't just talk about diversity and inclusion – Our goal is to create a welcoming, accessible, and equitable workplace, with a workforce that is representative of the State of Indiana population. As a proud equal opportunity employer, reasonable accommodations may be available to enable individuals with disabilities to complete the application and interview process, as well as perform the essential functions of a role.
Next Level benefits at the State of Indiana are here! Be sure to review our expanded benefit package offerings below.
Indiana Department of Environmental Management (IDEM):
Our mission is to implement federal and state regulations to protect human health and the environment while allowing the environmentally sound operations of industrial, agricultural, commercial, and governmental activities vital to a prosperous economy. We issue air, water, and solid and hazardous waste permits that restrict discharges to environmentally safe levels. Staff members inspect and monitor regulated entities; provide compliance and technical assistance; monitor and assess air, land, and water quality; use enforcement actions as necessary to ensure compliance; and respond to incidents involving spills to soil or waters of the state.
Salary:
The salary for this position traditionally starts at $67,314.00 but may be commensurate with education or work experience.
Role Overview:
This role will conduct enforcement activities to bring sources back into compliance, interpret state and federal rules and regulations governing air pollution and pollution control, and recommend appropriate enforcement actions addressing noncompliance with policies, as well as the drafting and issuing of violation letters and notices, proposed agreed orders, and Commissioner's orders. Incumbent will be negotiating the settlement of enforcement cases to resolve noncompliance by regulated entities, as well as communicating and consulting with a wide variety of IDEM staff including consultants, attorneys, regulated entities, associations, individuals, and community organizations to assist and resolve any compliance or enforcement issues.
About the Job:
As the Environmental Engineer, you will be responsible for working to achieve compliance with, and enforcement of, state and federal laws, regulations, and standards in various mid to large program areas including air, land, water pollution, solid and hazardous waste, and disposal, occupational health and safety and/or water supply. In this position, you will conduct plan reviews, analyze problems, and recommends a course of action to obtain compliance with applicable laws, rules, and standards in conformance with the Agency policies and procedures. In this position, you will support internal and external customers including Agency staff, consulting engineers, permit applicants, governmental officials, and the general public.
A Day in the Life:
The essential functions of this role are as follows:
Plan Review: Perform detailed technical engineering reviews and specifications of facilities and conducts on-site inspections to ensure that they meet the State of Indiana's standard guidelines.
Permit Review: Conduct permit reviews including review of permit application documents, plans, specifications, and design summaries, and evaluating the compliance history.
Surveys/Inspection: Conduct surveys, special problems investigations, and inspections to collect data, collect samples for Lab analysis, prepare reports for administrative and/or regulatory action, and may testify at hearings and in court.
Technical Assistance: Technically review plans and specifications with emphasis on identifying deficiencies and potential problems and recommending sound alternatives.
Enforcement: Ensure facilities comply with safety requirements, advise enforcement staff on technical issues, prepare or review enforcement documents; attend hearings, prehearing conferences, and preparatory meetings; and testify as an expert witness at hearings or in court.
Customer Service: Provide prompt responses back to the general public, consultants, contractors, government officials, and permit applicants.
The job description is not designed to cover or contain a comprehensive listing of activities, duties, or responsibilities that are required of the employee. Other duties, responsibilities, and activities may change or be assigned at any time.
What You'll Need for Success:
You must meet the following requirements to be considered for employment:
Bachelor's Degree in Engineering from an accredited four-year college.
License to practice engineering in the State of Indiana.
Four (4) years experience in Engineering and related field.
Thorough knowledge of, and ability to apply, federal, state, and, local laws and regulations about the environment and the protection of the public's health and safety.
Advanced knowledge of the sciences including chemistry, environmental sanitation, sanitary engineering, structural design, mathematics, safety engineering, and physics.
Ability to conduct surveys, inspections, and investigations and prepare reports for use as evidence and basis for recommendations for action.
Ability to review plans and specifications for treatment and control systems with an emphasis on the identification of adverse environmental impacts and to recommend more environmentally sound alternatives.
Ability to do effective planning and time management skills, problem-solving, judgment, and communication skills
Advanced knowledge of the principles and practices of air, land, water pollution, solid and hazardous waste and disposal, occupational health and safety, and/or water supply based on the division you will be assigned to.
Ability to utilize Computer Assisted Design (CAD) related programs, electronic documentation, and database entry and maintenance.
Supervisory Responsibilities/Direct Reports:
This role does not provide direct supervision to direct reports.
Benefits of Employment with the State of Indiana:
The State of Indiana offers a comprehensive benefits package for full-time employees which includes:
Three (3) medical plan options (including RX coverage) as well as vision and dental plans
Wellness Rewards Program: Complete wellness activities to earn gift card rewards
Health savings account, which includes bi-weekly state contribution
Flexible work scheduling options, including the potential for hybrid remote work for employees whose work may be performed outside state facilities
Deferred compensation 457B account (similar to 401k plan) with employer match
Two (2) fully-funded pension plan options
A robust, comprehensive program of leave policies covering a variety of employee needs, including but not limited to:
150 hours of paid new parent leave
Up to 15 hours of paid community service leave
Combined 180 hours of paid vacation, personal, and sick leave time off
12 paid holidays, 14 on election years
Education Reimbursement Program
Group life insurance
Referral Bonus program
Employee assistance program that allows for covered behavioral health visits
Qualified employer for the Public Service Loan Forgiveness Program
Free Parking for most positions
Free LinkedIn Learning access
Equal Employment Opportunity:
The State of Indiana is an Equal Opportunity Employer and is committed to recruiting, selecting, developing, and promoting employees based on individual ability and job performance. Our policy is to provide equal employment opportunity to all people in all aspects of employer-employee relations without discrimination because of race, color, creed, religion, sex, national origin, ancestry, age, sexual orientation, gender identity, physical or mental disability, or veteran status. We will comply with the spirit as well as the letter of all applicable state and federal laws.
If you are a qualified individual with a disability and require a reasonable accommodation in completing this application, you can request assistance by contacting the Indiana State Personnel Department at jobs@spd.IN.gov.
The State of Indiana has established a culture that welcomes equity, inclusion, and opportunity for all employees and applicants. We encourage you to apply if you feel you have the transferrable skills to be successful in this position and we look forward to reviewing your application.
State of Indiana